Victor Steel Photography e-Bulletin
Premier Issue, No. 001
April 2005
Welcome to the premier issue of the Victor Steel Photography e-Bulletin! Through this bulletin I would like to share some of my images and experiences in photographing dogs up and down the East Coast. I plan to publish this bulletin at least each quarter; more or less often if the opportunity presents itself.
Some discussions will focus on the photography, some on the dogs, sometimes perhaps even on the owners or handlers! In each issue I will also include some teasers from my other photographic passion: wildlife and nature.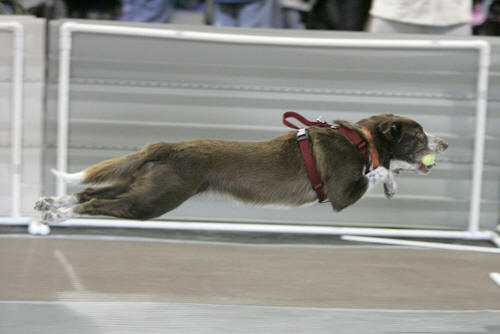 Sometimes it seems the dogs simply fly through the air. Maybe that's where the sport gets its name?
Sometimes I like to shoot across to the opposite lane and zoom in on the dog as it launches for the next jump. Not all dogs are so dramatic, however.
Other times, I like to use a wider angle of view, and catch both lanes.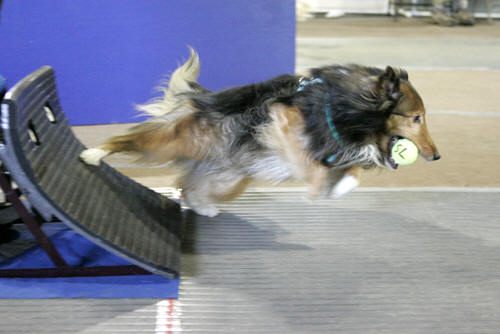 A lot can happen at the box turn. The dog must hit the box, catch the ball, execute a turn, and launch in the opposite direction.
I'm always amazed whenever I can capture a box turn with a camera ― its hard to imagine how the dog can do this maneuver faster than I can sometimes keep track of it!
When photographing animals, its generally best to use a perspective roughly at their eye level. This is difficult for an old man like me, especially with Jack Russell Terriers... but otherwise the dogs look like diminutive little animals scurrying around on the floor. The same guideline goes for just about all animals ― unless of course the idea is to intentionally create tension in the image with a non-normal perspective. That's why I like to photograph horses. They are just about my height and I can stand comfortably!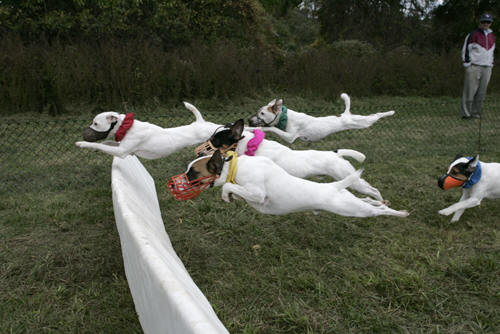 JRT racing is fun, but challenging. Capturing these little dogs mid-flight as they strain against the muzzle, and stretch every muscle in their body to try to get ahead of the other dogs, kind of reminds me of life. Jacks can be the cutest dogs ― perhaps I'm biased though, as my sons own two JRTs and they run our lives.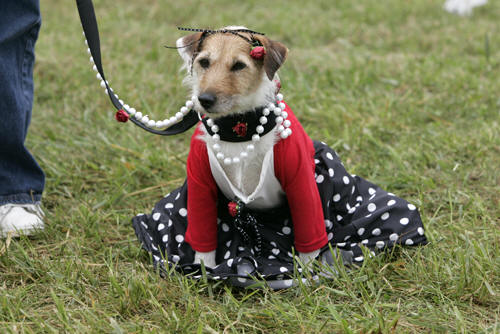 The costume class at the JRT Nationals was a lot of fun. This was one of my favorite images -- not meaning to anthropomorphize, but this little princess looked ready for the ball (My, what a long nose you have, grandmother).
Again, to shoot JRTs, I almost have to lay down on the ground, or at least squat as far down as possible. Remember those infernal deep knee bends from high school?
Nature and Wildlife are my passions, both photographically and non-photographically. I enjoy spending time in the outdoors, and always feel like I learn something about ourselves from observing our natural environment. Born and raised in Alaska, I never appreciated the beauty and grandeur of Mother Nature until I moved away, to the "Lower 48". Then I began to realize that having mountains in our back yard rising 20,000 feet into the sky doesn't happen everywhere. Having bears roaming in our back yards, king salmon in our rivers, and glacier rivers clean enough to drink from, doesn't happen everywhere either.
Today I appreciate Nature much more than ever before. I've chosen photography as my means of expressing how much I do appreciate the natural world. I'll discuss and present a small portion of my work in this section of the newsletter each time; much more is available on my web site, at http://www.victorsteel.biz.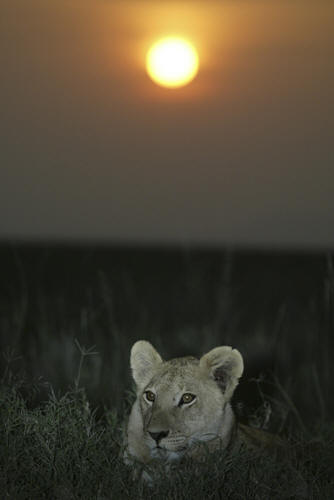 In Africa, sunrise and sunset are the times for predators to become active. Lions carefully watch for prey to wander unaware within striking distance. But, before the sun goes down they await patiently the end of activity by people or others who might disturb their hunt.
This image was taken about 20 minutes prior to sunset, in very low light. Flash was used to illuminate the lion, while the ambient light was metered for the setting sun. Since the sun was so low in the sky, no additional ambient compensation was needed to obtain a properly exposed sunset image. The flash exposure was reduced by one stop to keep the lion from being too bright and dominating the image.